Special events deserve the best possible portable toilets and sanitation services and South Texas Waste Systems provides the best of both. We are locally owned and operated in the greater Laredo area.
We are dedicated to helping you organize a flawless, comfortable experience for your guests and event participants. We can provide continuous on-site service during your event hours and are also on call for you 24 hours a day.
We have a large inventory of equipment that is used only for special events:
Standard and deluxe portable toilets

Hand wash stations

Air conditioned portable toilets

Deluxe & VIP restroom trailers

Portable showers

We are the first local company to offer continuous on-site services during special events.
STWS is proud to be a Laredo Chamber of Commerce Hospitality Award Winner.
We will be pleased to provide assistance with planning sanitation services for your special event.
Please contact STWS today for more information and a quote.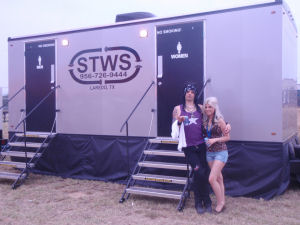 Stephen Pearcy from RATT