Testimonials from South Texas Waste Systems Customers
To whom it may concern:

I would like to extend a heartfelt Thank You for the services your company and it's employees provided for our family's special event the weekend of 23MAR2013.
On short notice, 4 days before the event, we contacted your company to rent a unit. The employee, Erica, was very professional, polite and informative.
I decided to rent one unit after a few minutes and that process was simple
and speedy.
The unit was delivered on Friday, a day before the event, as promised. The gentleman, Joe Serna, which delivered it, was just as courteous, professional and intent on providing great service. That afternoon, before the unit was delivered, the family decided we should rent another unit as the number of confirmed guests grew. I placed the call to your office, late into the day and a day before the event, and again your staff proved to be very understanding, patient and willing to do what was needed to make us, the customer, very happy. Even after numerous phone calls, speaking with Wimberly, down to the wire, as they say, they remained patient and unflustered. And we were able to rent the second unit. When the second gentleman delivered it, Mr. Peter Venegas, again, even after such a late order and being after hours, he was polite, professional and informative and provided suggestions on placement, etc. During both deliveries, they were very aware of the surroundings and the landscaping and they made every effort not to disturb or damage it.
The units themselves were clean, well kept and very presentable for a special event. We will not hesitate to call for your services next time the need arises and have even recommended you to friends and family in the event they may need this type of service.
Again, thank you and your team for the wonderful service and providing a great example of servant leadership.


Sincerely,

Guillermo Castillo II
Dear Mr. Peter Venegas:
What a success! The City of Laredo and surrounding cities have now enjoyed our first Annual FireFest. The Laredo Fire Fighters Association, Local 1390 has received great recognition for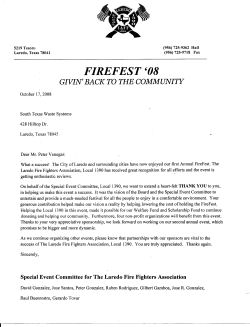 all efforts and the event is getting enthusiastic reviews.
On behalf of the Special Event Committee, Local 1390, we want to extend a heart-felt THANK YOU to you in helping us make this event a success.
Thanks to your very appreciated sponsorship, we look forward to working on our second annual event. You are truly appreciated. Thanks again.
Special Event Committee for The Laredo Fire Fighters Association
David Gonzalez, Jose Santos, Peter Gonzalez, Ruben Rodriguez, Gilbert Gamboa, Jose R. Gonzalez, Raul Buenrostro, Gerardo Tovar

Dear Mr. Venegas,

Relay for Life is a twelve-hour event that offers everyone in the community an opportunity to participate in the fight against cancer. This year as in the past we had over 1,000 people in attendance. Everyone was extremely complimentary of how the portable restrooms and wash stations we kept clean during the entire event. This is another reason why year after year we continue to do business with your company.

South Texas Waste Systems truly exemplifies superior customer service through their products and staff. We look forward to working with you in our upcoming events.

Diana Rossell Juarez
Community Manager
American Cancer Society


Dear Mr. Venegas,

From day one we have not regretted having made you part of our team. You make good on the spot decisions that consistently mutually benefit both our companies. South Texas Waste Systems exemplifies true customer service. We look forward to doing business with your company for many more years.

Eliseo Valdez, Jr.
Division Purchasing Manager
WestWind Homes


Dear Mr. Venegas,

The City of Freer is proud to have rented your services for the 4th Annual Freer Freedom Fest on July 5, 2008. We received numerous compliments on your portable toilets, hand washing stations and customer care. With your staff maintaining the units throughout the event we were able to place attention on more needy areas. We have already made the decision to use you again next July 4th.

Cynthia Lackey
City Secretary
City of Freer, Texas


To whom it may concern:

I was most certainly pleased with the services of STWS during our Fair. On behalf of our Association we recommend STWS because they provide the best possible services. I vote for STWS as a winning company for portable toilet and hand sanitation needs.

Ana V. Navarro
President
Zapata County Fair Association


Dear Mr. Venegas,

I would like to take this opportunity to express my most sincere gratitude for your continuous support with my community projects. The excellent service you provide with your portables and hand wash stations has been very beneficial for our Annual Fishing Derby and other events I have had.

Thank you again for your continuous contributions to this community.

Danny Valdez
Webb County Judge


Dear Mr. Venegas

We here at Entravision would like to offer our heartfelt thanks for your company's terrific service these past few years. Your portable units were exceptionally clean and of the highest quality. Whether it was the 3,000 people at our Dulce Vida Health Fairs or the 7,000 people at the Fourth of July festival, your attentiveness insured you were able to properly calculate and provide adequate well kept units for all our customers.

Once again, we would like to commend you on your customer service and look forward to future events using South Texas Waste Systems.

Terry Elena Ordaz
Vice President & General Manager
Entravision Communications Corporation


Dear Peter,

Just wanted you to know it has been a pleasure doing business with your company the past few years. We have had zero complaints from our patrons at the WBCA Carnival about the portable toilets for public use. In years past, prior to using your company, complaints were an everyday occasion because of dirty units and no supplies. You promised clean, stocked units and you made good on your promise. Looking forward to working with you again.

Leonard Martin
20th Century Rides, Inc.
Corpus Christi, Texas


Dear Mr. Venegas,

The service you provided with your hand wash stations and portable toilets was stupendous and far beyond our expectations. Your units were always kept neat and in clean condition - a service we had never been able to provide at our past fairs.

We are very pleased with your service and commend you for a job well done. We will continue to contract this service from your company for any future events. Furthermore, thanks for the quick response for the additional units needed during our fair.

Claudia Williams
Executive Director
Laredo International Fair & Exposition
Webb County


The Freer Chamber of Commerce board of directors would like to thank South Texas Waste Systems for their great services. This was our third year with STWS providing service for our Annual Freer Rattlesnake Round-up. Dealing with a company and MR. Peter Venegas that know their business makes our job easy. WE will continue our service with STWS for years to come and recommend them all.

Margaret Ann Vela
Executive Director
Freer Chamber of Commerce


Dear Mr. Venegas,

Please accept our sincere thanks and gratitude for helping us out with your excellent service during our Menudo Bowl this year. The service you provided with your portable toilets and wash stations was outstanding. We will certainly continue to contract this service from your company for future events.

Carolyn Leyendecker
Executive Director
Laredo Crime Stoppers, Inc.


We commend South Texas Waste Systems for an outstanding job during our Bassmasters Elite Series Tournament. STWS provided excellent service! The portable toilets and wash stations were kept very clean and well stocked throughout the event. Prompt delivery was also great. We will certainly use and recommend your company again.

Petty Umphres-Moffett
Zapata County Chamber of Commerce